Workflow system for remote and office work
– why is it worth investing in it?
Currently, the work of many enterprises has been moved to a remote level. Therefore, it is worth considering the introduction of a system to the company that will not only ensure a higher level of supervision of your teams' activities but also improve them and increase their efficiency thanks to the automation and simplification of most processes, including document circulation. The implementation of a workflow system is best for these activities.
In our article you can read:
Workflow – what is it?
The workflow system can be defined in two ways. The first is as a circulation of documents (invoices, orders, contracts, etc.). As part of it, you can define the scope of program users rights, e.g. by setting options for additional consents of pre-defined employees for orders above a certain amount. Workflow programs also offer an OCR module that automatically scans documents and enters them into the system, thus significantly relieving and speeding up the work of people who have thus far entered them manually. Workflow, within the meaning of document circulation, also facilitates access to the archive of paper versions, collecting information about their exact location.
In the second sense, workflow functions as a tool for streamlining and supervising the flow of work (e.g. projects or remote work). Coordination of tasks using the program involves not only; the requirements of obtaining specific consents and approvals, working according to a given schedule, staying within limits set in the cost estimates, but also a more casual form, i.e. performing work by moving from one point to another. Workflow as a flow of work can be as closely connected with the circulation of documents as possible, but it is not mandatory.
Do you want to introduce our solution?
Consult our experts for free
Why is it worth using workflow?
The value of using workflow within a company is based primarily on the time and cost savings. Systems of this type make it possible to introduce a top-bottom order into the organization. They systemize work and allow you to control documentation, including work created on an ongoing basis. If you and your employees prepare a new contract for a client, for example, the workflow will allow you to control the process of its creation. Regardless of who was currently working on the file, each version is saved (according to the check in/check out model). Thanks to this, you can always be sure that you are working on the latest version. The program also creates the entire history of work on the given files, allowing you to keep everything in order as well as fully monitor the progress of all activities and changes made.
A workflow system is also a great tool for supporting remote work, thanks in part to the option of operating in the Cloud. Your employees have easy access both from the level of a web browser as well as a mobile application for a phone or tablet.
The workflow program remotely supports, among others:

invoiving and budgeting

granting and changing new rights

approval of applications

planning working time and monitoring its progress

collecting, analyzing, and reporting data
The workflow system also automates and simplifies processes, thereby improving the work of your staff. Thanks to this, employees can efficiently perform tasks both from the office and remotely, and you always have control and insight into the course of all work.
How does the workflow system work?

The principle of the workflow system is very simple. Its main task is to organize and optimize documentation and work in your company. The program can monitor the payment deadlines of invoices, but also automatically download them from the mailbox, enter them into the system (creating forms for new customers) and send them automatically to the persons responsible for their execution. The system also informs users about upcoming deadlines or the possibility of exceeding the assumed project budget. It also supports the circulation of HR documents, i.e. sick leave, holiday requests, or business trips.
Thanks to the workflow checking mechanisms, it also supervises the work of the staff. For example, when someone is unable to perform certain tasks, the program will redirect these assignments to other, less busy employees, thus ensuring their timely implementation.

What does a workflow consist of?

Workflow solutions available in our offer are flexible systems whose appearance and modules are tailored to the needs of our clients' companies. Their scope is very wide, thus providing support for most corporate departments. However, if you want to identify the most common modules which make up the bulk of the workflow systems, you should definitely start with the previously mentioned functions improving the flow of documents, including OCR. This program, as we have already mentioned, scans and reads the content of documents, which allows them to automatically be entered into the system (this applies to paper and PDF versions). It also detects errors (e.g. illegible entries, missing data in the field), about which it informs employees and creates new forms for new customers, the lack of which is identified in the database by the NIP number.
In workflow systems, the flow design function is also important – both work and files. A good system enables the flexible creation of these paths, including options for granting different authorizations for users or instructions when a given document or task can be transferred to the next stage of implementation (e.g. what data should be completed, what consents to obtain, what files to attach, etc.).
A good workflow also has the option of integration with ERP systems. It is worth remembering that the program for work and document circulation is not an HR, Payroll, or Financial software, but it uses the same data and documents, thus supporting the work of these systems. The integrator ensures smooth cooperation of workflow with ERP – with operations conducted on one, common database and common system dictionaries. Once entered, the data will be synchronized through all systems, and when someone tries to re-enter information, they will be informed that such a record already exists. In this way, you get a fully integrated solution that creates a single, readable, and cooperative organism that automates and improves the operation of your company.
The integrator in the workflow system also supports more advanced accounting processes, such as analytics. For example, you receive a collective electricity invoice that combines consumption for the production department, office, and administration – in the workflow you can set distribution keys (cost centers) and clearly distinguish them, gaining access to specific data. Integrators operate on many levels, improving and automating work, and thus shortening the time for performing tasks.
If you have a larger number of systems in your company, it is worth considering the implementation of an integration bus, through which programs can efficiently communicate with each other, as well as with source files, e.g. Excel sheets.
(You can read more about the integration bus in our article "How does the ESB integration work?")

If your company works on a project basis, the workflow should definitely have a module dedicated to these activities. Its functionalities will simplify and systemize the work of your employees. When starting a new project, the program itself will suggest what you need to run it (what documents, approvals, etc.), and then keep an eye on the deadlines and budget, informing you in advance about possible overflows and delays.
The monitoring/checking module also works very well in workflow systems. It is a form of gatekeeper that checks if the workflow is being performed at the right time. If it turns out that a given employee is unable to achieve a certain part of the task (due to workload, absence, or ignoring the task), the module informs the supervisor about it and can delegate the task to someone else.
The checking mechanism also monitors various types of conditions that we have assumed as mandatory for the implementation of a given project. If they are not met, the program knows the possible escalation path and recovery plan. For example, when the customer does not pay invoices, the system sends notifications to them, the tone of which changes over time, even informing them about the possible initiation of court actions. Nobody has to control these actions – the module performs them automatically when certain conditions are not met.
Other important workflow modules include the reporting and analysis function. In the solutions offered by our company, it is a module equipped with a large range of possibilities to prepare any reports in any selected graphic form. They are extremely extensive and flexible, thus ensuring the possibility of reporting on each data selection in the system.
What to look for when choosing a workflow system?
When choosing a workflow system, first of all, pay attention to its flexibility. The system must be able to fully adapt to the needs of your business, and not the other way around.
Also, pay attention to whether the company you commission to implement the system has an idea for optimization. Of course, finding bottlenecks in the enterprise may take some time but the solutions must introduce, e.g. after six months of operation of the system, when it is already saturated with data, will be able to indicate places that require improvement or remodeling.
When choosing a workflow, pay attention to the previously mentioned system access possibilities (mobile and web), as well as whether it works in the Cloud. Nowadays, when a large part of the staff works remotely, a properly selected system should improve, speed up, and protect it, e.g. against possible lost or stolen data. It is important to pay attention to this point.
In the end, also check what is included in the implementation and post-implementation offer from the IT company that you will commit to introducing the workflow into your company. At Kotrak, we offer our clients a complete pre-implementation analysis as well as support before, during, and after the program installation. Also, we conduct comprehensive training and handle its progression, offer technical support, and make sure that each software version is always kept up-to-date.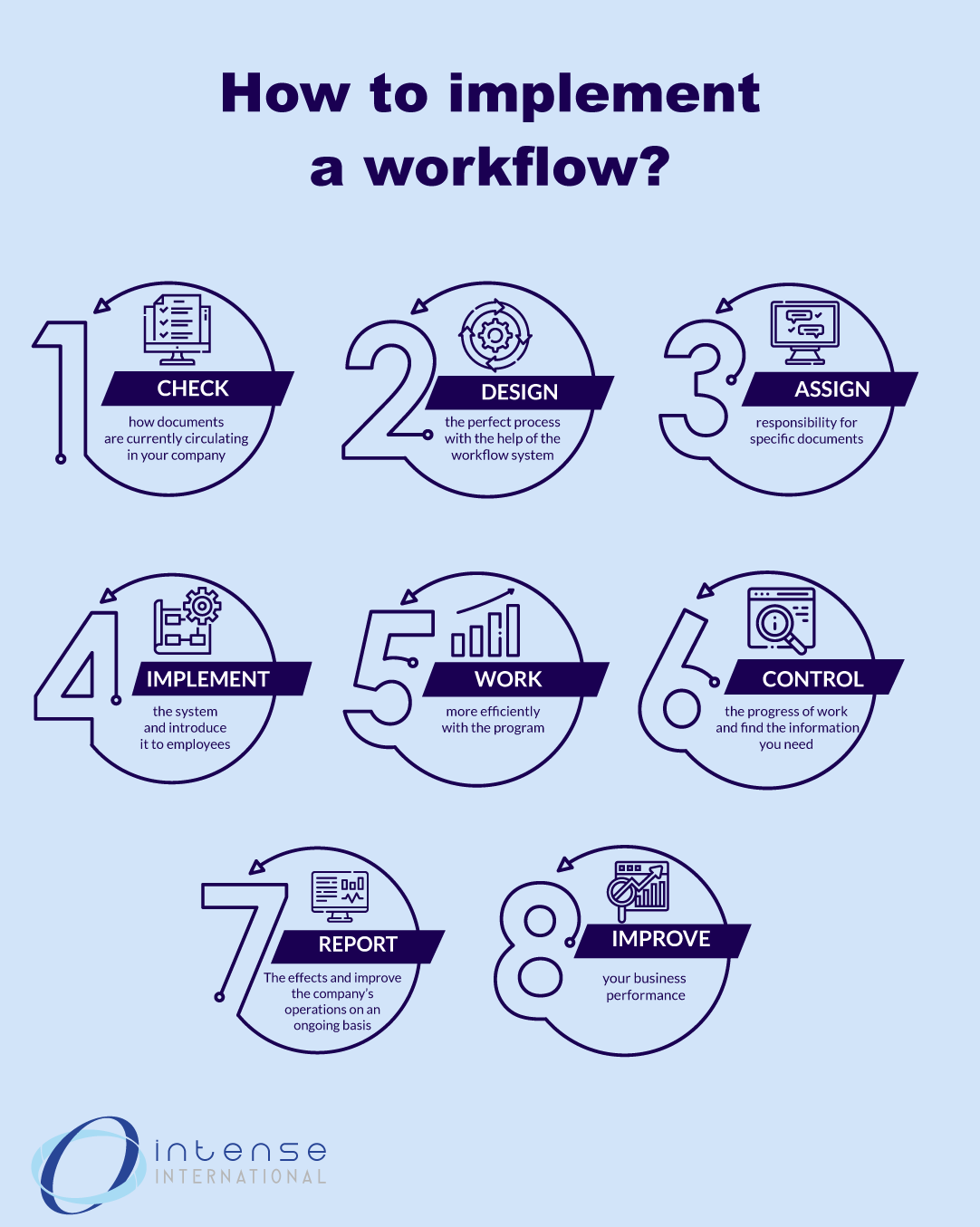 The article was written in cooperation with Piotr Bargieł, Senior Sales and Consulting Specialist in Kotrak.
Choose Intense System and improve your business processes!
Contact us to receive the offer!
Address:
40-582 Katowice
ul. Parczewskiego 25
Poland